Welcome to Actively Learn! We're excited to help you get started. Actively Learn is available on all smart mobile devices. To get started, sign up for an account and go to read.activelylearn.com. Educators can sign up using their Google, Clever, or Office credentials. Alternatively, they can select "create an account" at the bottom of this page to create a username and password specific to Actively Learn.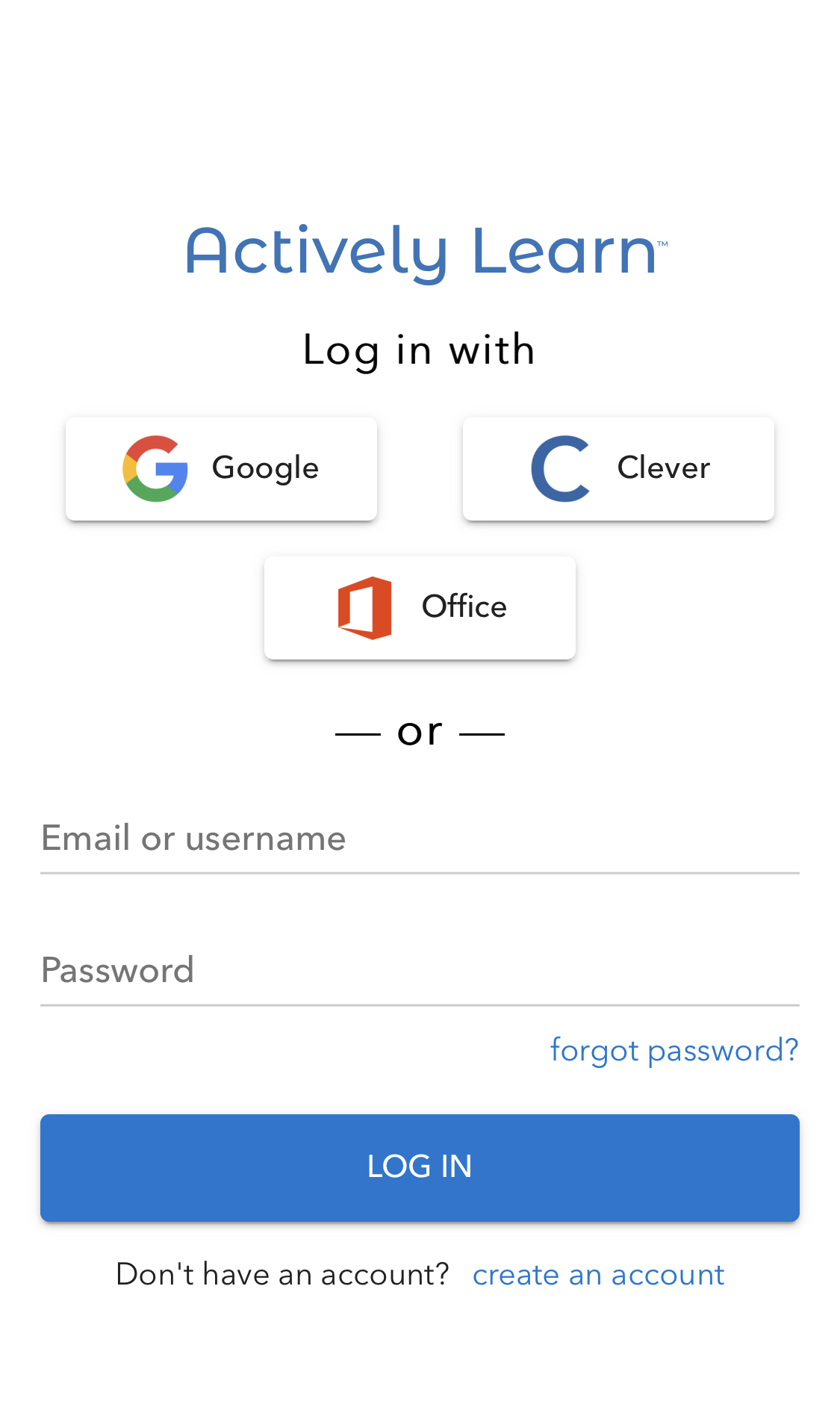 Returning educators can click on the Google, Clever, or Office buttons if applicable, or sign in with their username and password. After signing up or logging in, educators will see our main content catalog, which is home to thousands of texts and assignments for grades 3-12. Explore the catalog by scrolling down and across through our selections.
From this homepage, teachers can use the top menu to access our catalog pages. Teachers can sort by Grade and Lexile level to quickly select texts that best fit their students. Teachers can also choose texts by sorting our standards for all 50 states. Just below Grade, Lexile, and Standards, educators can find texts using our Genres, Themes, News, and Imports tabs. Prime teachers can also access our curated Curriculum Units and School Library pages. Use our search bar at the top to search our catalog for specific texts, words, or phrases.
To create a class in Actively Learn mobile, expand the left side of the screen by clicking the three horizontal lines menu icon in the upper top left. Next, use the + icon next to "classes." Enter your class details and finalize it by clicking "add class." After you have created a class in Actively Learn, your students can sign up or log in at activelylearn.com and use your class code to join your class.
The catalog is made up of thousands of text tiles. These text tiles indicate the number of pages, grade level, Lexile level, and whether or not the text includes embedded questions and notes. If you find an article you would like to save, click on the star icon and it will be added to your starred folder. If you want to assign a text to your class(es), click on the + icon in the bottom right of the tile. Once you assign a text, or begin to customize a text, the text will get added to your teacher workspace.
To explore our Help Center or message our Product Support Team, tap the question mark icon. That will expand into a drop-down menu from which you can navigate to our Help Center or send us a message in our in-app chat. We're excited that you're here and look forward to being an integral part of your teaching!