Actively Learn's summative assessments give teachers all the resources they need to evaluate student learning at the end of an instructional unit. These assessments provide opportunities for students to use higher-level thinking skills and to synthesize information from multiple sources. They also allow teachers to assess students' mastery of specific skills and concepts.
There are two types of summative assessments in Actively Learn. Summative Performance Tasks provide opportunities for students to display their learning through writing and speaking and listening. NGSS Assessments & DBQ Assessments provide summative test-taking opportunities for students.
Summative Performance Tasks
Available for Actively Learn ELA and Social Studies
Summative performance tasks assess student comprehension and understanding of standards-aligned concepts and skills in ELA or Social Studies. They are included in middle school and high school Actively Learn curriculum units.
In ELA Summative Performance Tasks, students apply their learning about ELA standards, concepts, and skills (rhetorical appeals, figurative language, etc.) to create written and oral products (expository essays, fictional and personal narratives, speeches, multimedia presentations, etc.). Summative Performance Tasks are aligned to state writing and/or speaking and listening standards and include robust scaffolding, including detailed graphic organizers that walk students through each step in the process of creating a quality final product and teacher's guides that provide additional guidance and ideas for extra help and extension opportunities.
In Social Studies, the Summative Performance Tasks are standards-aligned and support teaching within C3 Framework. These tasks revolve around a compelling question that challenges students to conduct research and communicate their conclusions. Our materials support students as they conduct their research, while leaving the final end product (essay, debate, poster, etc) up to the teacher to decide, based on what is best for their students and class.
Each assessment contains the following resources:
Teacher Guide

Student Directions

Graphic Organizer

Grading Rubric
These resources are available in either PDF or Google Docs so teachers can print handouts for in-person instruction or have a ready-to-use resource for virtual instruction.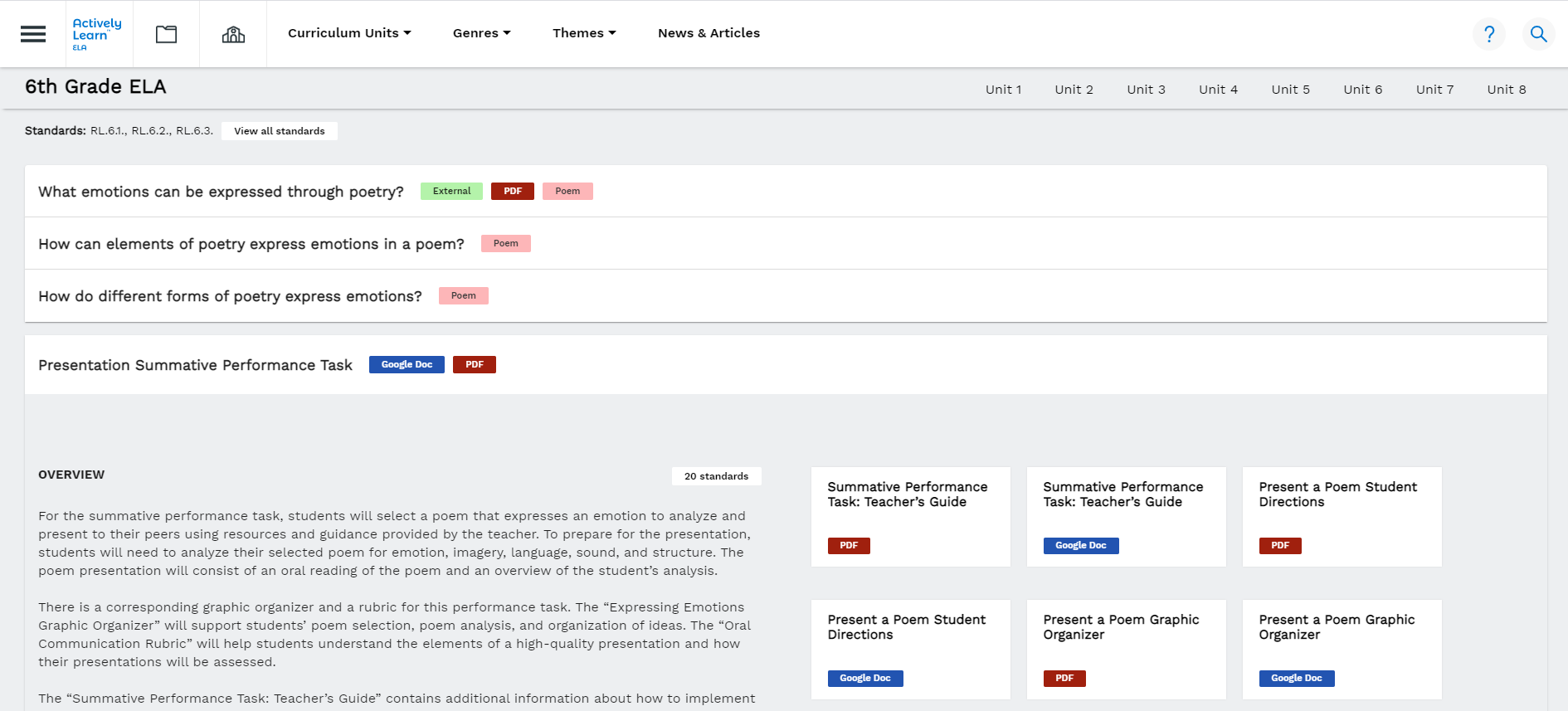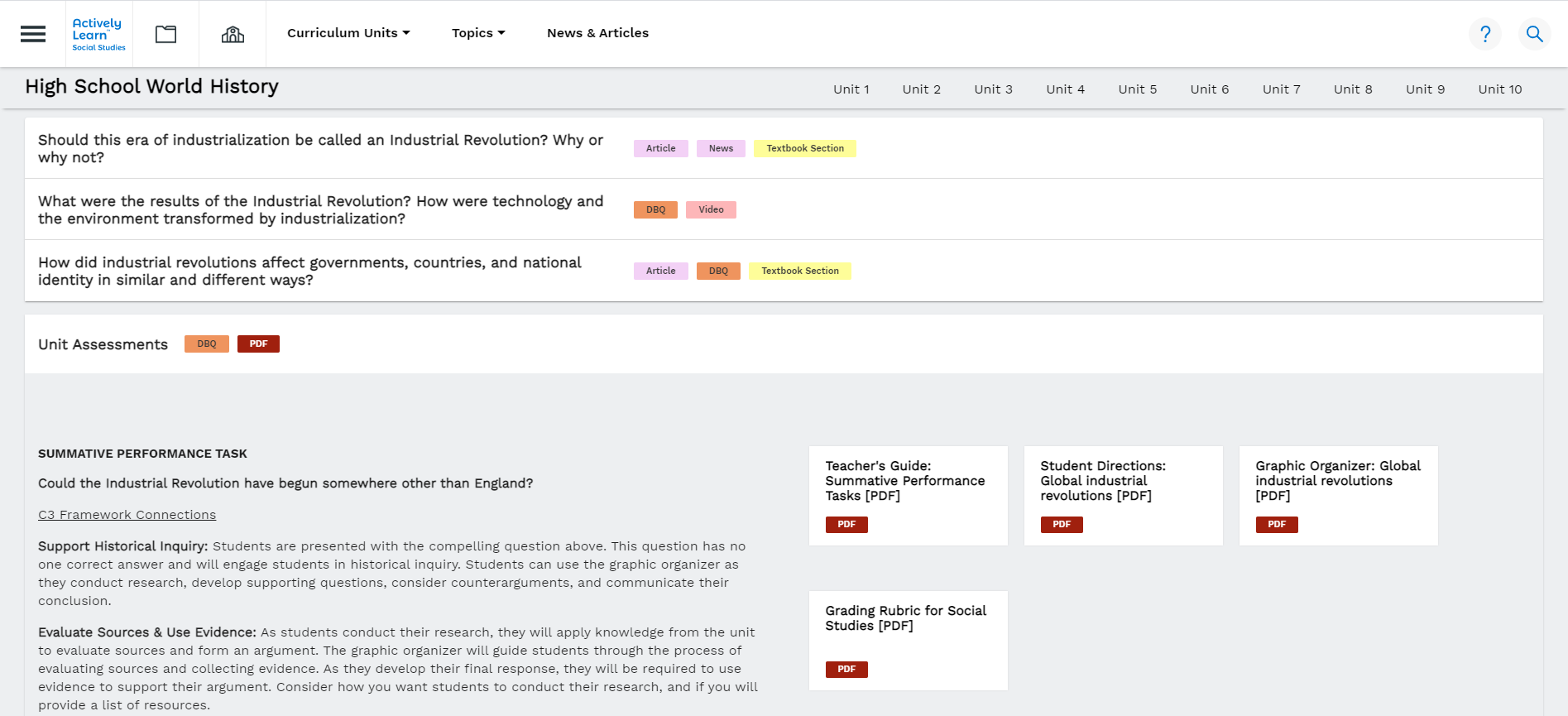 NGSS Summative Assessments & DBQ Assessments
Available for Actively Learn Science and Social Studies
These assessments take place on Actively Learn and include multiple-choice questions and extended-response questions. These assessments are designed to test student comprehension of core concepts in science or social studies via a test-tasking environment. These assessments differ from other Actively Learn assignments in the following ways:
Students cannot access collaboration features but can take notes, define unfamiliar words, and translate text.
Students can take notes in the text but will not be able to share notes with other students or see feedback on questions as they work. Teachers can turn off any of the student reading aids in the assignment reading settings.
Questions will not be automatically graded as students input their answers.
Students' answers to all questions will be submitted at the end of the assessment. When students are finished with the assessment, they need to click the "Submit Assessment" button and confirm that they are ready to submit. After the assessment is submitted, students can no longer change their responses.
Teachers can control when to release student grades, just like with in-person exams.
Unlike other assignments in Actively Learn, grades for assessments will not be automatically released to students. Grades will be released only when teachers click the "Release Grades" button.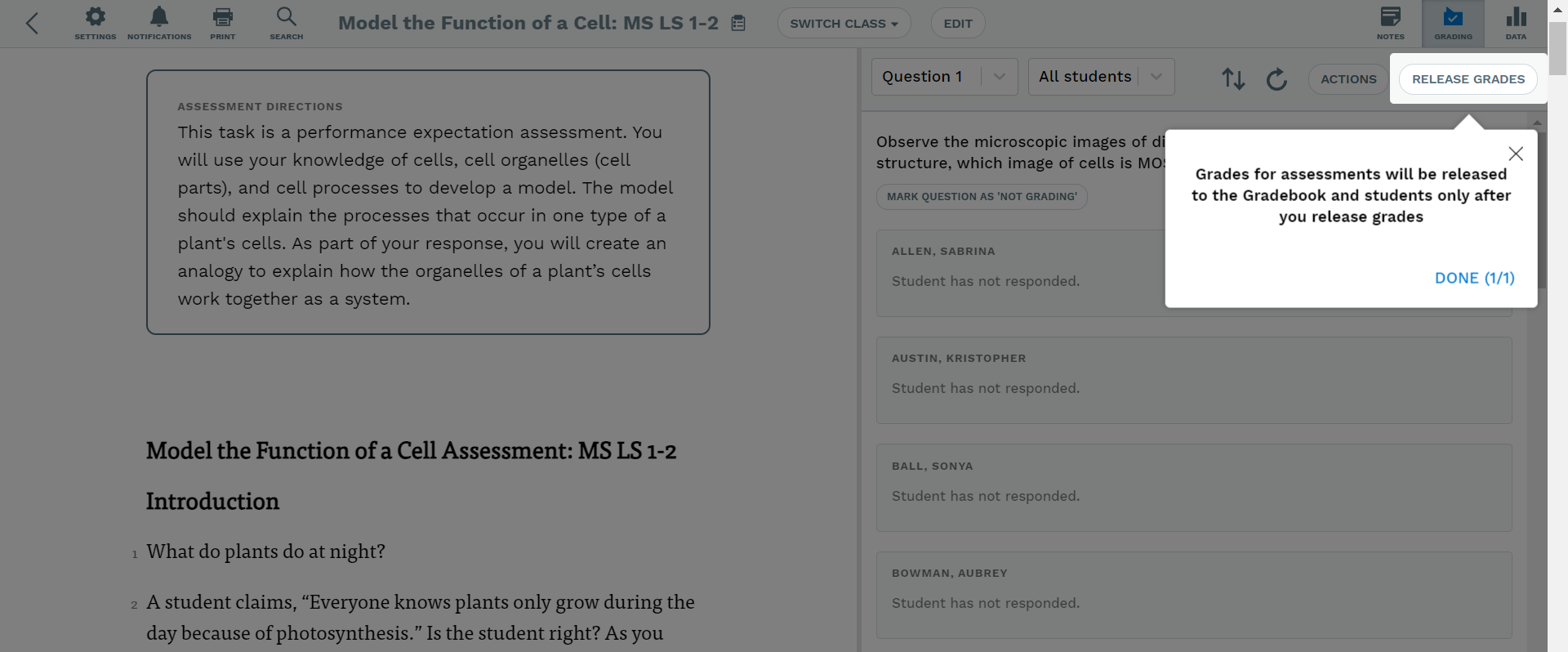 Teachers can assess student understanding through long-form essay questions.
Some assessments include long-form essay questions to assess student understanding of a broader concept or problem. These essay questions have a much higher point value than other questions by default.
Want to learn more about NGSS Summative Science Assessments?
Actively Learn Science NGSS Summative Assessments are aligned to NGSS performance expectations and assess students across each of three dimensions (Disciplinary Core Ideas, Science & Engineering Practices, and Crosscutting Concepts). Learn More
Want to learn more about DBQ Assessments for Social Studies?
Actively Learn Social Studies DBQ assessments are aligned to state standards and designed to support teaching within the C3 Framework. Learn More