Administrator Reports give you quantified information on student performance across schools and for individual teachers. It breaks down login information and teacher activity, proficiency, and professional learning activity among your teachers.
STEP 1: Select "Administrator Reports" from the main menu

Step 2: View your school's teacher and student data.
Please note if you are a district admin, then you can pick which school to view with the school drop down menu at the top of admin reports page.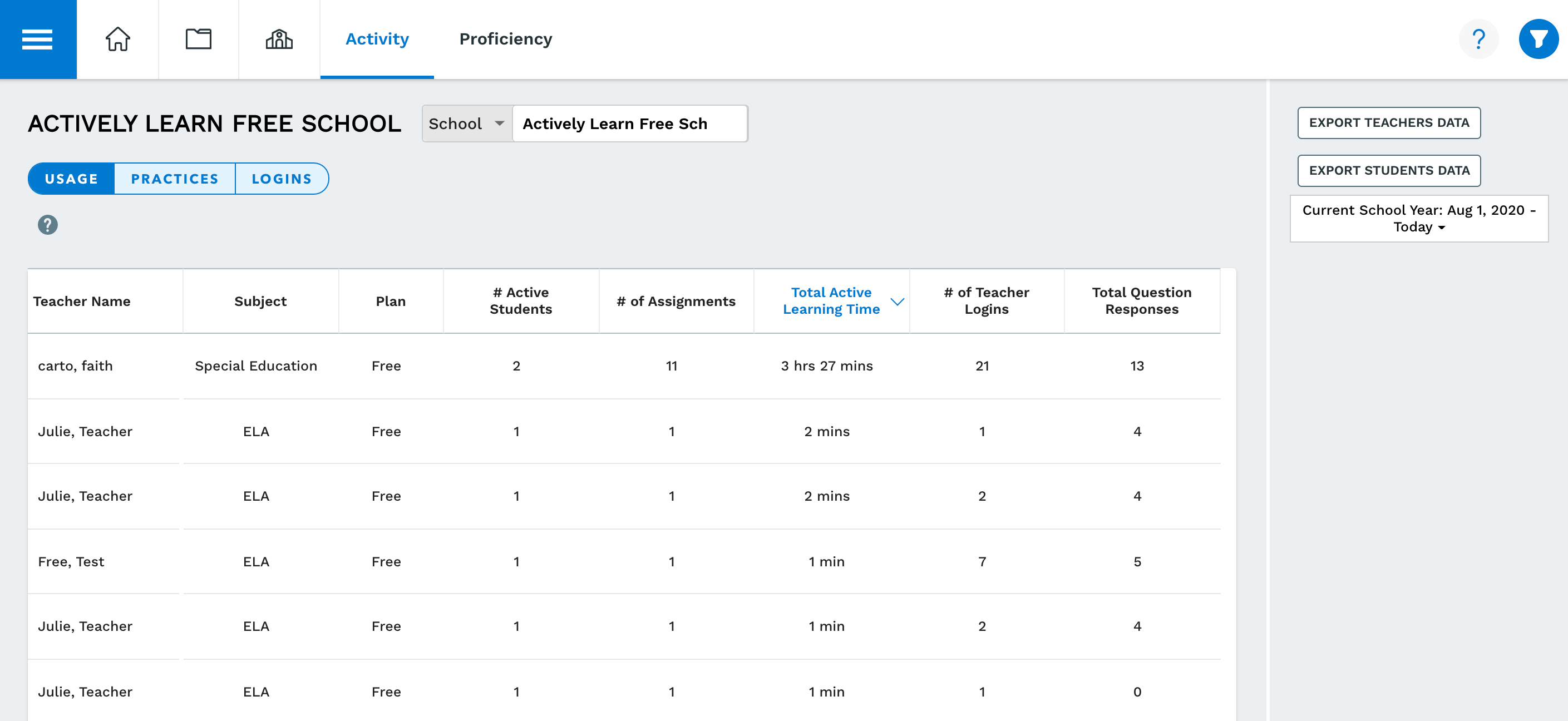 You will see the Activity Report once you do this.
This will provide you with a break down of teacher and student logins, as well as student activities within a specific teachers class. For both the Activity Report and the Proficiency Report, you can filter the Report by Date.
Usage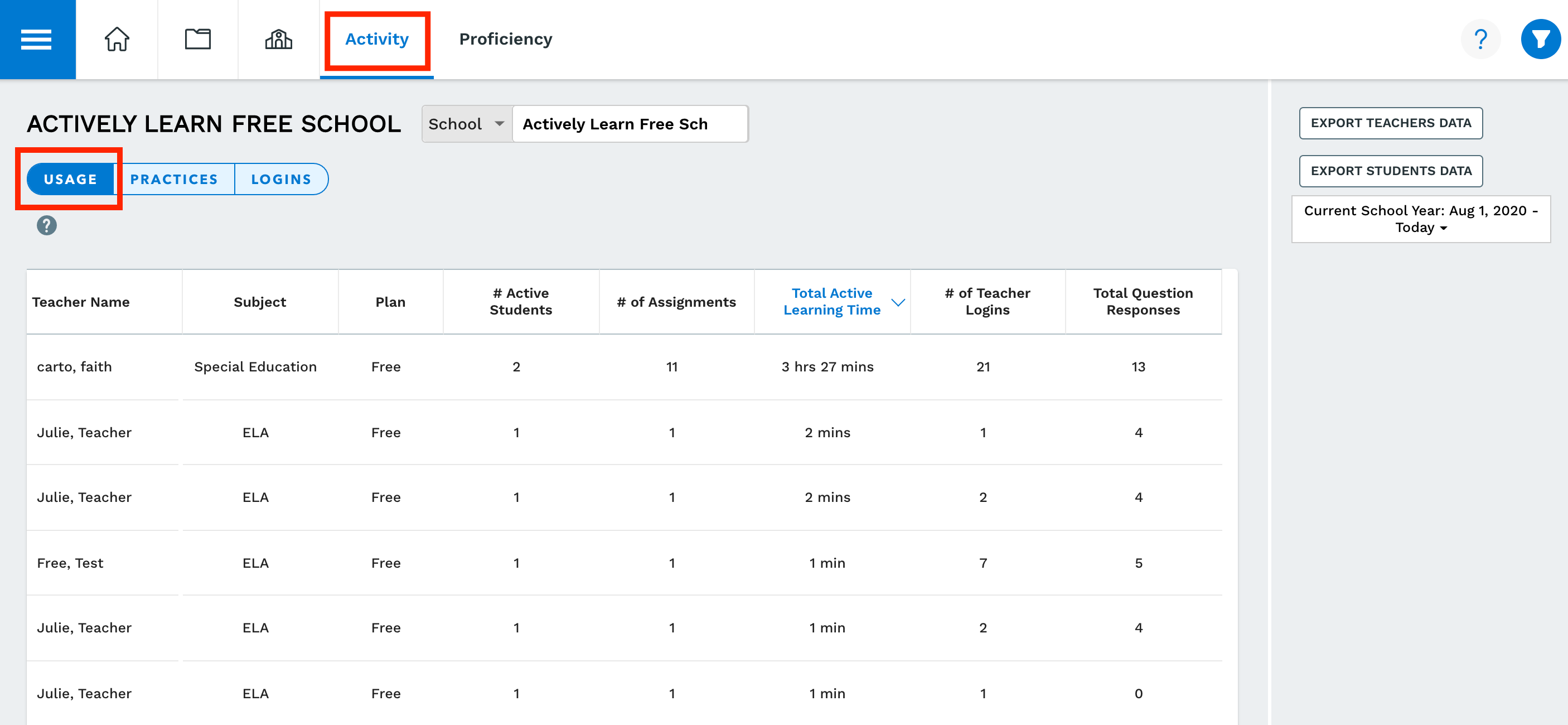 Teacher Name
Subject Area
Plan: Free or which Prime plans the teacher is on
# Active Students: Total number of students with reading time in a class where the teacher is the main teacher of the class
# of Assignments: Total number of assignments with reading time where the teacher is the main teacher of the assignment
Total Active Learning Time: Total reading time of all students in every assignment across all classes where the teacher is the main teacher of the class
# of Teacher Logins: Number of times the teacher has logged in to Actively Learn
Total Question Responses: Total number of student responses in every assignment across all classes where teacher is the main teacher of the class
Reading time indicates the amount of time a student is actively doing something in an assignment, such as scrolling, typing, clicking, etc.
Practices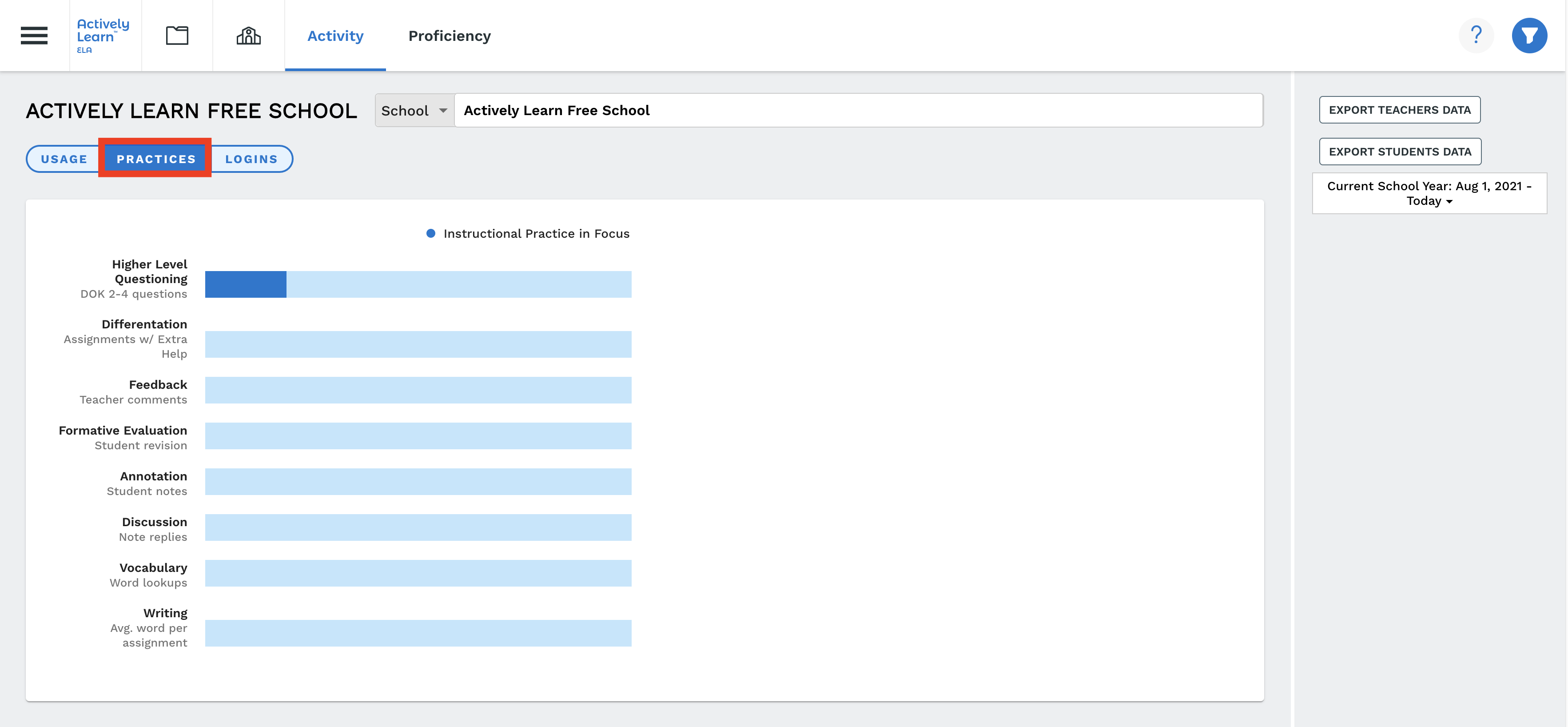 The Practices tab provides more data on a teacher's instructional practices. The tab provides an overview of these practices across all teachers at a school, but you can also scroll down and see this data presented per teacher.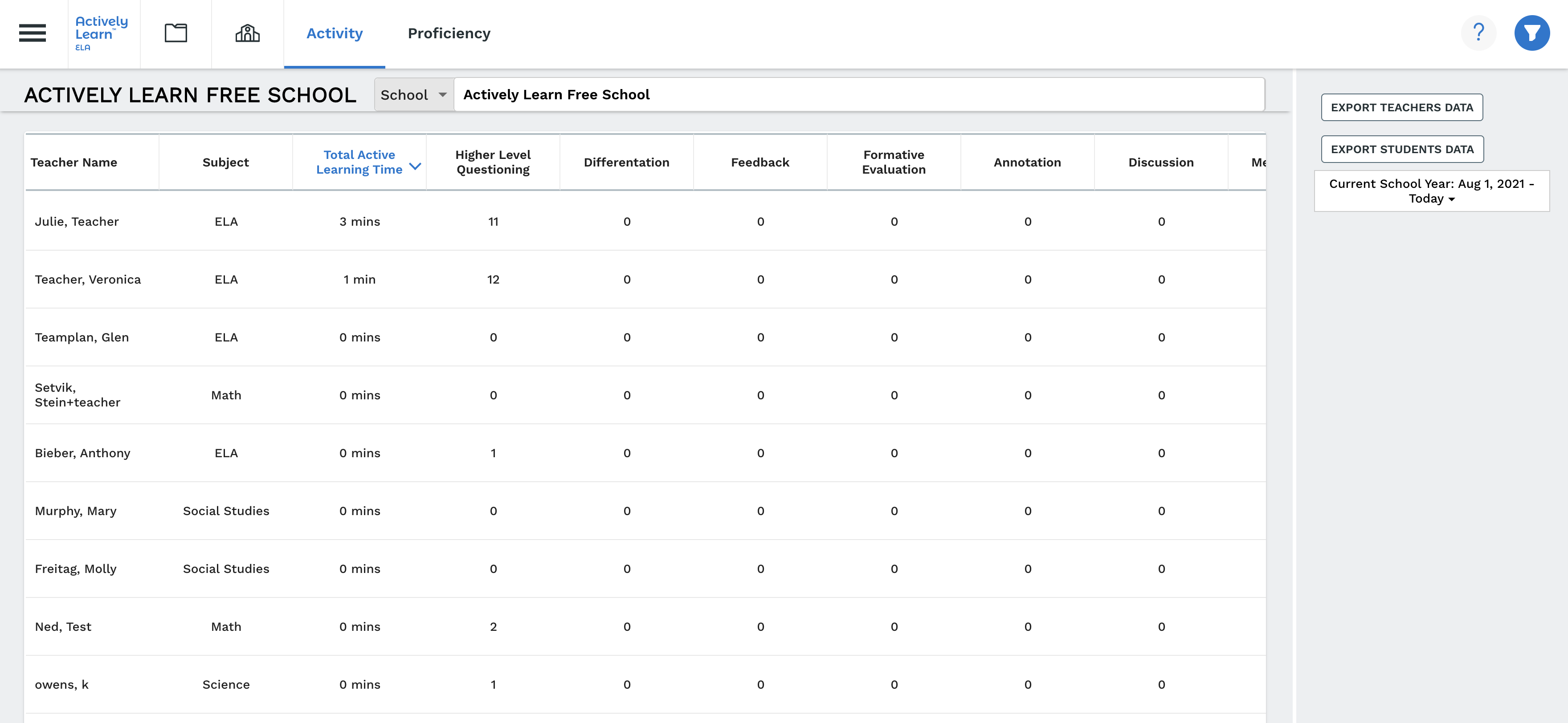 Higher Level Questioning: Number of questions in all assignments with a DoK 2,3, or 4
Differentiation: Number of assignments with at least one student marked as 'Extra Help'
Feedback: Number of unique student responses where the teacher added a comment
Formative Evaluation: Number of responses in all assignments that were reset by a teacher where a student revised their answer
Annotation: Number of notes created by students across all of the teacher's assignments
Discussion: Number of teacher or student notes that have at least 1 student reply in the teacher's assignments
Metacognition: Number of student notes with a selected category in the teacher's assignments
Accessibility: Total number of times students used the text to speech and translation features
Vocabulary: Total number of times students performed word lookups in assignments
Logins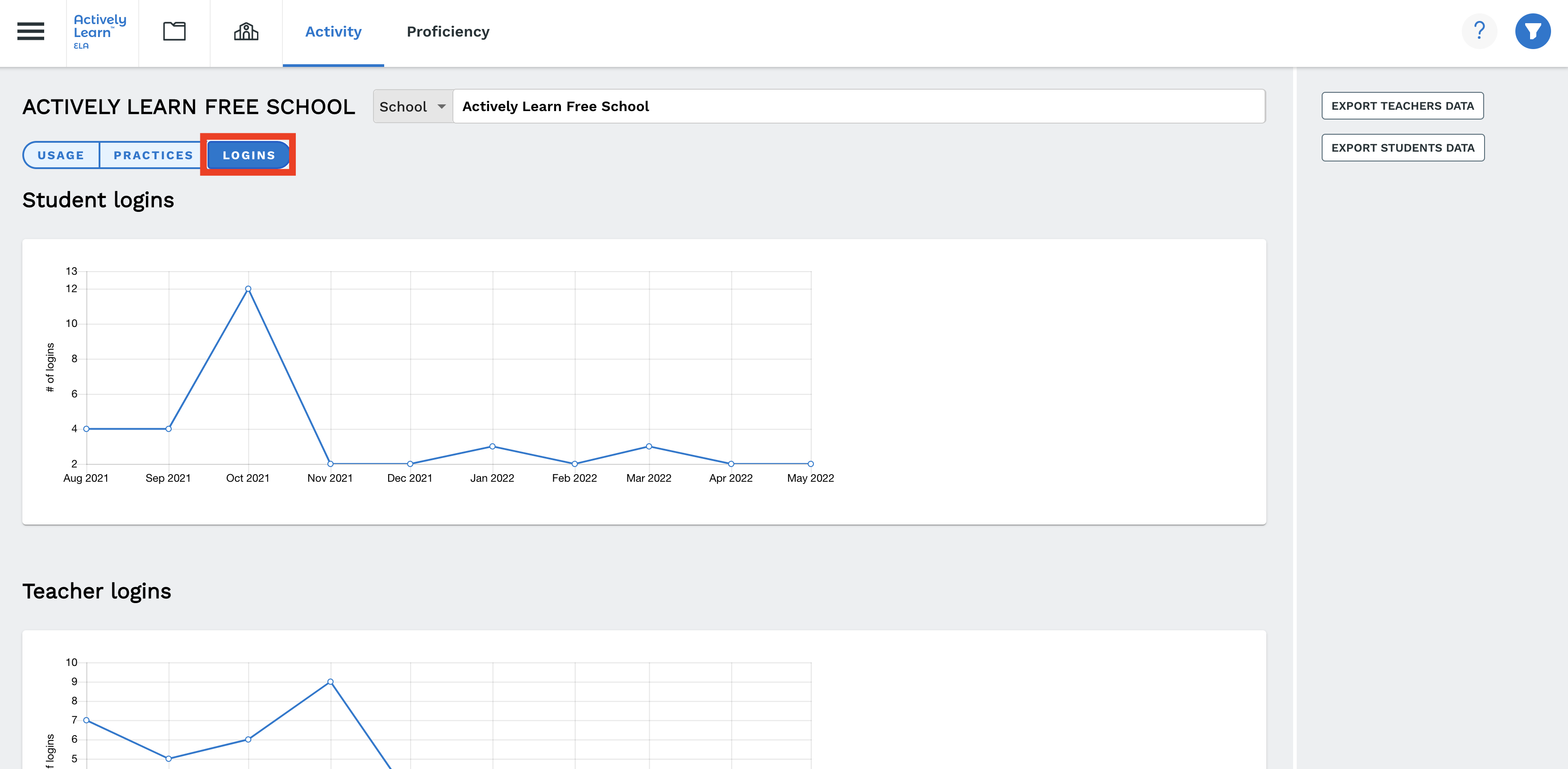 The Logins tab provides two graphs indicating Student and Teacher logins over the course of the school year.
Proficiency report: View the proficiency report to get a break down of how your students are doing by grade level or by standard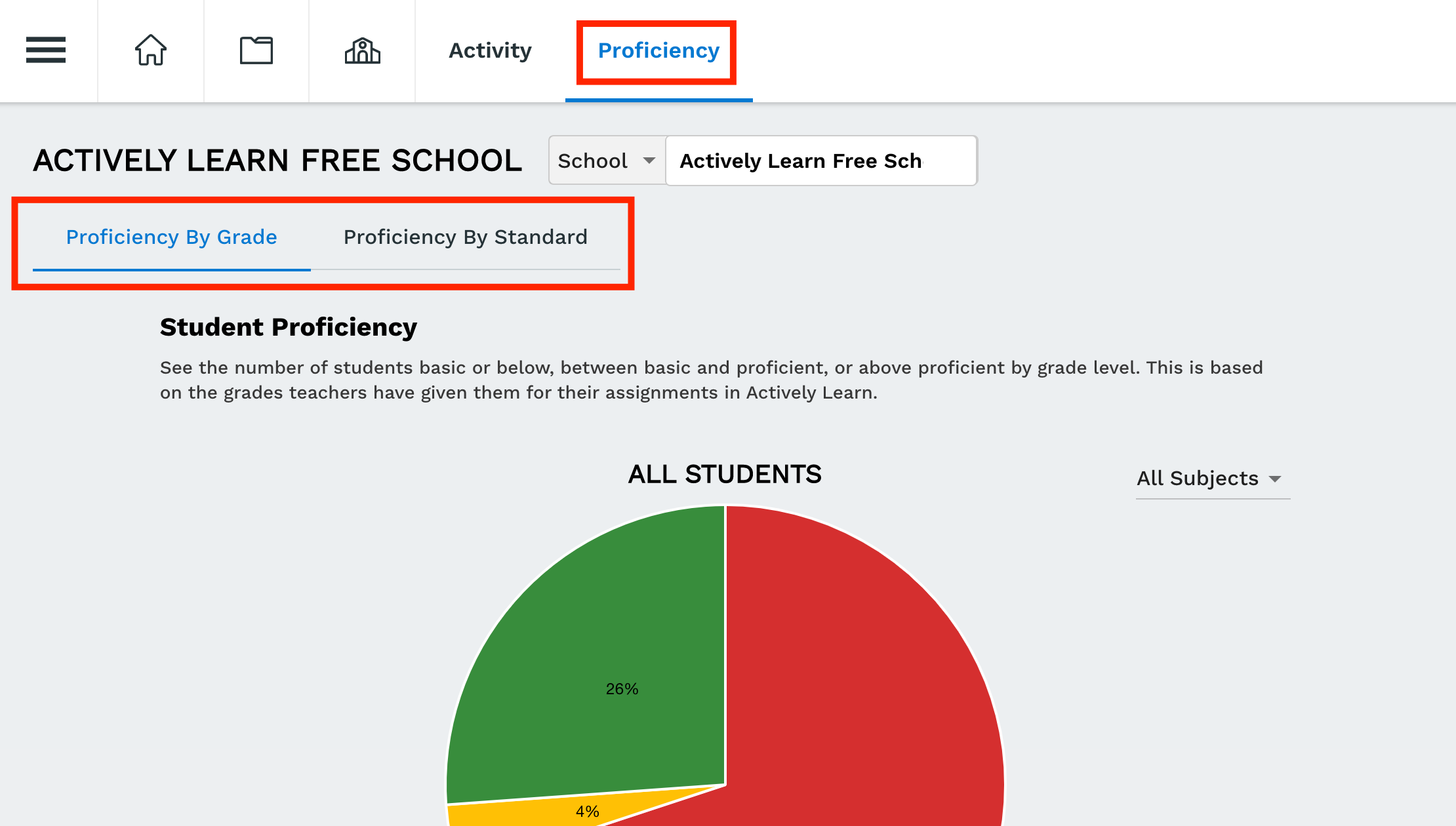 View proficiency level by grade
Filter by All Subjects or by select subjects (ELA, Science, and Social Studies)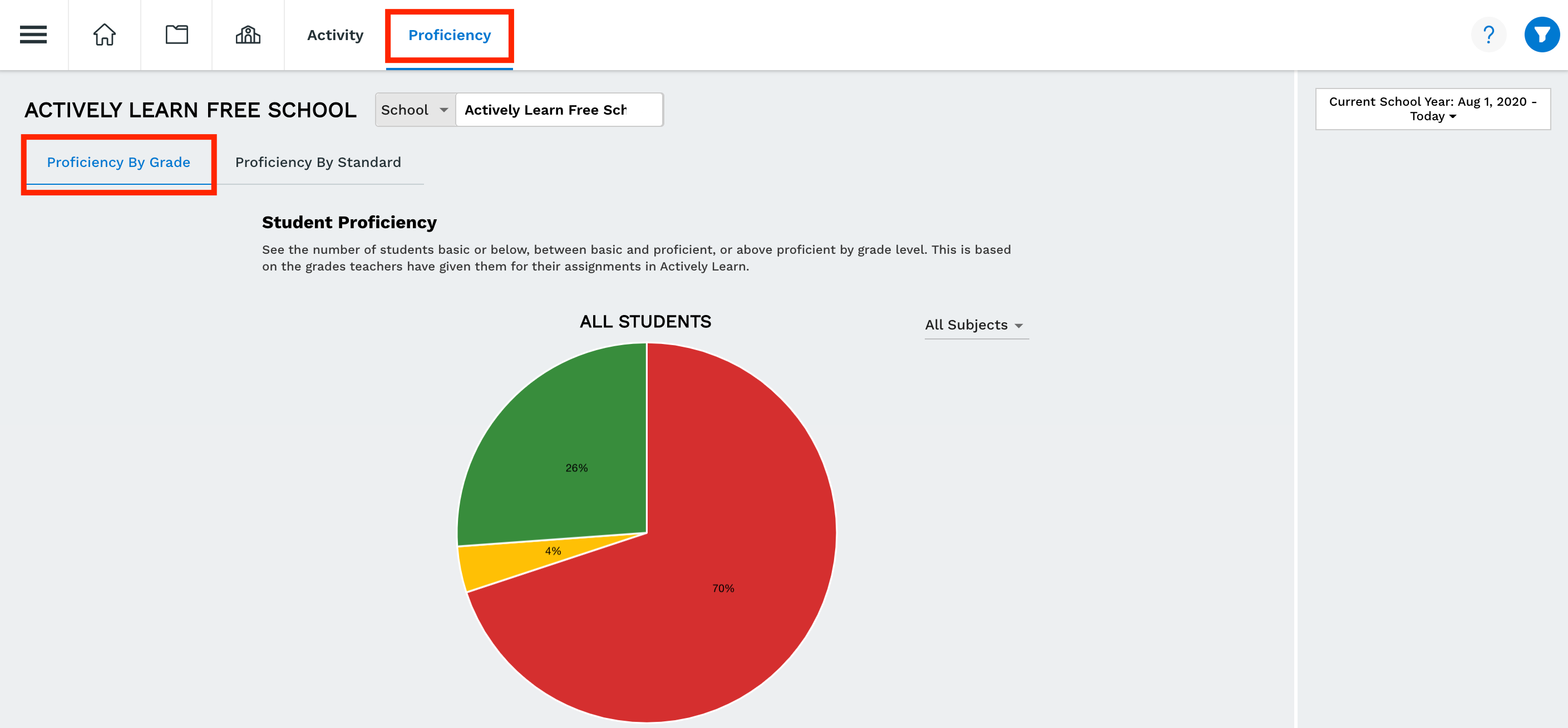 Proficiency by standard
Select by grade level, content area, or teacher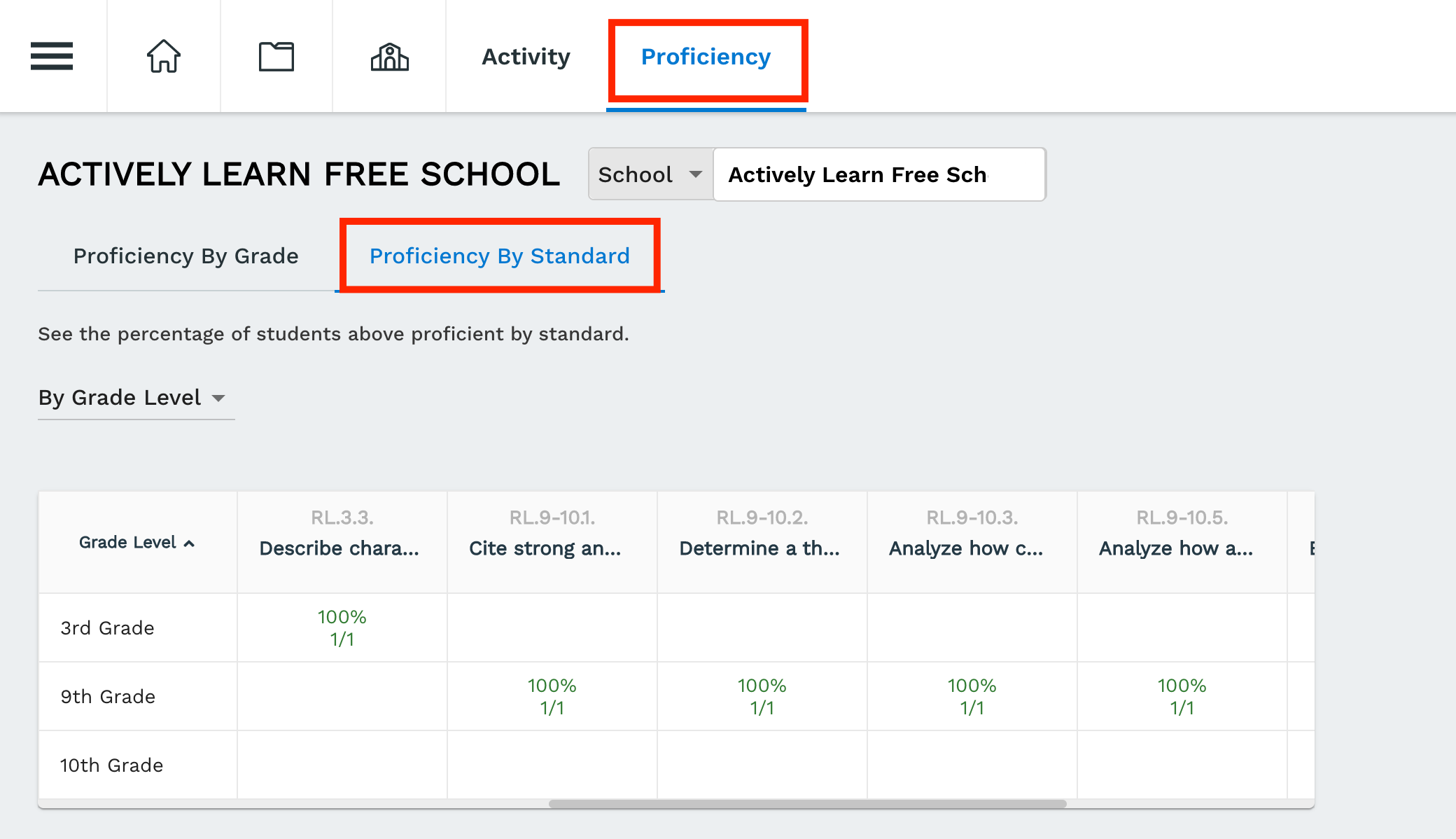 ---
Export Data
STEP 1: Select "Administrator Reports"
STEP 2: Select "Export Teacher Data" or "Export Student Data"