As administrators you will have access to certain reports and features. These reports will give you a good view of what text teachers are teaching, questions being asked, and feedback they are giving students. Administrators have the ability to give users access to manager features, too! (schools standards, district library, permissions, and view coaching reports)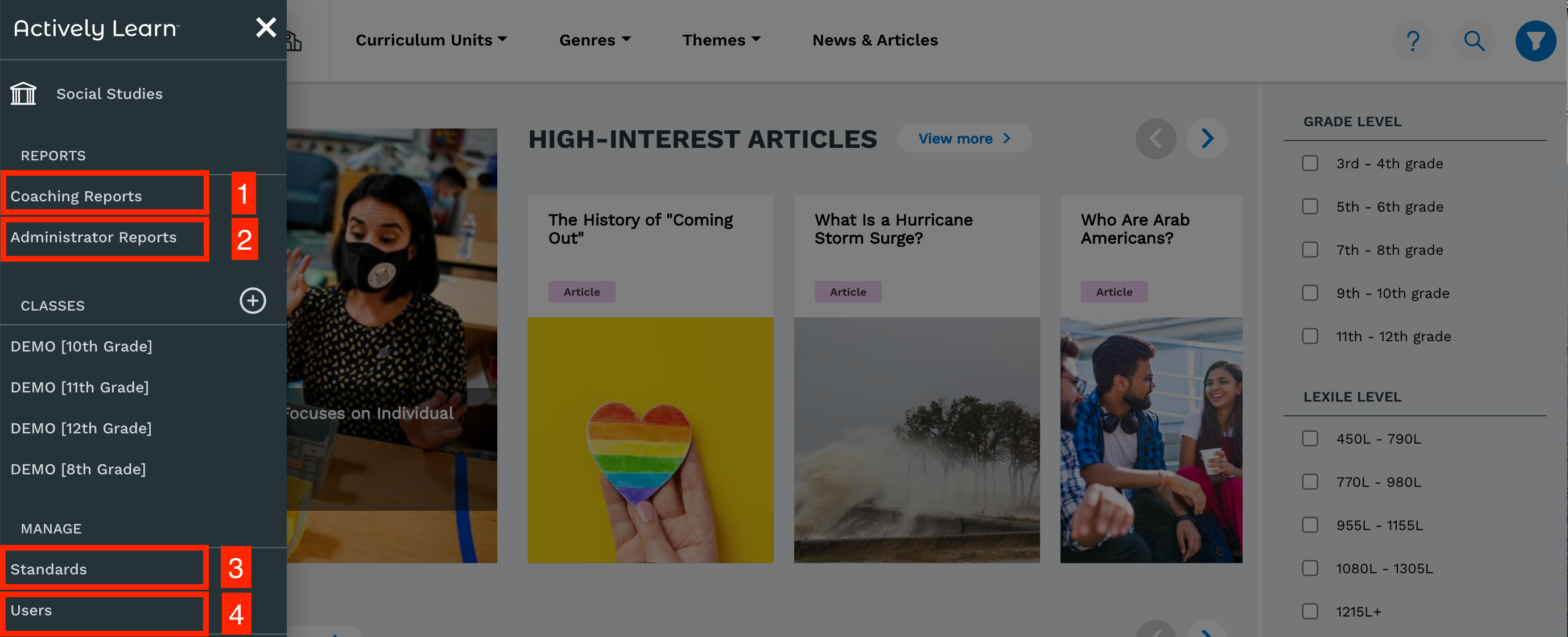 1) Coaching reports
In coaching reports you will find:
Overview

This shows the data overview of the teachers's assignments and engagement with their students. We track the number of assignment questions, number of discussions/threads, number of student notes, number of scaffold assignments with extra help, number of times students used accessibility features, number of teacher comments, number of student revisions, and the average number of words written per assignments by students.

Assignments

This displays what assignments are in the teacher workspace. You will be able to access each assignment and view questions/notes in the assignment. You will not be able to make any changes to the assignment.

Questions

In here you will find

what questions have been assigned by teachers. Filter by standard or questions type (multiple choice, short answer, or poll)

Feedback

This will show feedback teachers have given to student responses.
Click here for step-by-step instructions on navigating coaching reports.
2) Administrator reports
Administrator reports are helpful for administrators to get a quick overview of teacher and student activity in their own school or for the whole district.
Activity report will show teacher and student login activity, and show an overview report of teachers and their classes.
Proficiency report for all students displays the total number of students who are basic or below, between basic and proficient, or above proficient by grade level.
Professional learning report will show which teachers have completed courses in the professional learning center
Click here for step-by-step instructions on navigating administrator reports
3) Standards
Here you can view default standards and create custom standards to align course work with state or school specific standards.
Click here for step-by-step instructions on creating custom standards.
4) Manage Users
The manage users features allows administrators to give permission to other users. Permission include:
Under the account tab you can remove users. This will remove all information and the teacher profile will no longer be in that school.
Click here for step-by-step instructions on managing users.